Here are a few shots from my recent shoot for Autumn Teneyl, a Colorado designer based in the little mountain town of Pagosa Springs. This was my second shoot for them.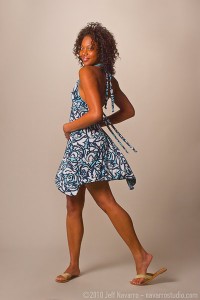 We were fortunate to have at our disposal the awesomely appointed space at Cluster Studios, which happens to be quite conveniently owned by my roommate. Their cyclorama was painted chroma-key green and it wasn't feasible to repaint it in time for the shoot…so even though I was using a seamless paper background, I had to block off all the green with white flats to prevent any zombie-tone color casts appearing on the models' skin or clothes.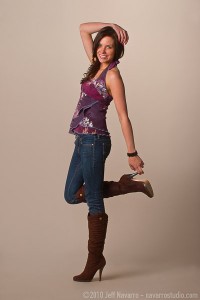 One cool amenity we had on the shoot was a 52-inch high-definition television surrounded by couches, which I could plug my laptop directly into, so we could all review the images right away and in comfort.
While I tweaked the lighting, I pulled Nicole (in the pink dress on the right) away from the makeup chair to stand in for test shots, and I gotta tell you, she loved seeing herself so large in a rumpled sweatshirt and her hair in curlers.
Oh, and I can't forget the other cool amenity, which was the blasting PA speaker setup…which again, I plugged directly into my laptop with my 40,000-song iTunes collection. I love being able to play whatever a model likes to shoot to! And it's all my music, so I'm cool with whatever she chooses….